HGV DRIVER – CLASS 1 (full-time, part-time, or casual hours)
We are currently recruiting for a Class 1 HGV Driver to join the team, based at our busy Lerwick depot.
About the role:
Our Class 1 HGV Drivers play a key role in the local community's supply chain. We support a broad customer base, transporting various cargo such as plant and equipment, temperature-controlled goods, hazardous waste and livestock.
Reporting to the Operations Manager, our Class 1 HGV Drivers are predominantly responsible for the safe and efficient delivery of customer freight and trailers throughout Shetland. In addition, there are various other tasks that our Class 1 HGV Drivers carry out, including:
Conducting daily vehicle and trailer checks, ensuring that any defects found are reported accordingly
Loading freight onto vehicles
Liaising with colleagues at the Transport Office to coordinate the movement of freight and trailers to locations within Shetland
Our Class 1 HGV Drivers may be required to operate a variety of vehicles, including: Artic, Class 2, VAC tank, lorry-mounted crane, hook truck, skip truck and low-loading vehicles. Training is provided to operate these vehicles, as required.
Benefits:
At Northwards, we offer an attractive benefits package which includes:
Competitive salary, leave provisions and pension scheme
Access to our Employee Assistance Programme (EAP)
Development training such as ADR
Travel insurance
Group life assurance
Where applicable, opportunities for overtime may be available.
Key requirements: Category C+E Driving Licence
Full-time (40 hours per week), part-time and casual hours can be considered, and a relocation package may be available.
Applicants with an existing Class 2 licence wishing to progress to a Class 1 licence may also be considered for this role as training opportunities would be provided.
ADR training and Drivers CPC training provided.
For an informal discussion about the role, please phone Allan Leslie, Operations Manager, on 07786 495 102.
Please apply by email to allan.leslie@northwardsltd.co.uk or in writing to Allan Leslie, Northwards Ltd, Anderson Base, Gremista, Lerwick, Shetland, ZE1 0PX.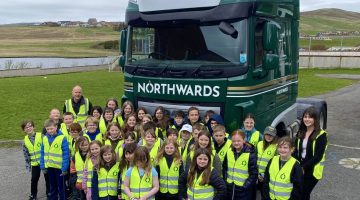 Transport
The pupils of Tingwall Primary School in Shetland received a road safety awareness visit from local transport operator, Northwards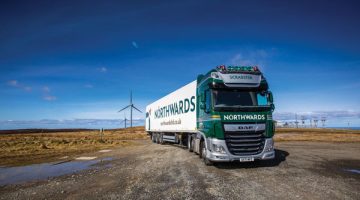 Transport, Renewable Energy
Northwards continues to be an industry leader in initiating innovative transport solutions for the energy sector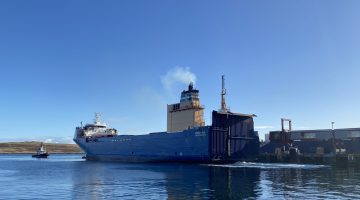 Transport
Success of operation demonstrates potential for future freight sailings