Seafood industry welcomes Scrabster diversion
February 7, 2021
Aquaculture, Transport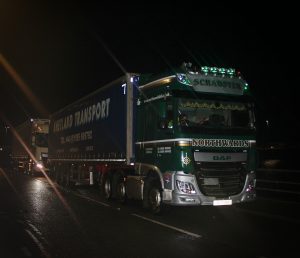 Seafood Shetland has welcomed the unscheduled sailing of the MV Hrossey from Lerwick last night (sailing 2200 Friday 5 February 2021), arriving in Scrabster this morning (0600, Saturday 6 February 2021), to accommodate freight, including around 20 trailers of seafood from Shetland.
The sailing was scheduled at the request of the industry, when weather, combined with a sea swell from across the North Sea impacted on all east coast ports and prevented Friday's scheduled sailing from Lerwick to Aberdeen.
Ruth Henderson, chief executive of Seafood Shetland said: "We are very grateful to Serco NorthLink Ferries for accommodating the diversion, and also to the hauliers – Northwards and DFDS – for the support and close collaboration, which made this possible.
"We certainly don't underestimate the amount of work that's involved in rescheduling the service and extending the road trip in winter conditions by 130 miles. Our members greatly appreciate such support, particularly so in these challenging times."
Commercial director of Northwards Ltd, Neil Leslie, said: "The proposal to sail to Scrabster did present logistical challenges for us. A particular hurdle to overcome – late in the week – was securing drivers with sufficient time left on their tacho cards to complete the extended journey from Scrabster to Larkhall. However, by working closely with DFDS, we were able to put the necessary arrangements in place to accommodate both the south and northbound traffic.
"We understand how important it is for our customers – particularly those with highly perishable goods – that we do everything we can to keep freight moving."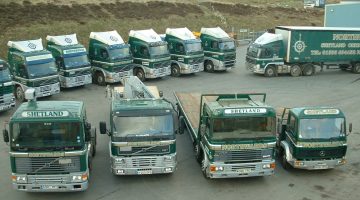 Transport
This month, January 2022, sees the 20th anniversary of Northwards' establishment. Incredibly, it is 20 years since director Neil Leslie led the management buy-out of the freight division of P&O and created the business which has since that time been providing employment and delivering a transport and logistics service of the highest quality to our ever-growing number of customers.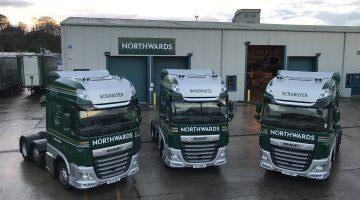 Transport
Northwards takes delivery of three of six new vehicles, part of a half million pound investment for the company.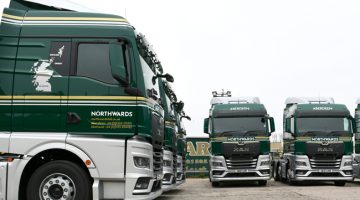 Transport
Northwards has announced that it is investing £1.5 million in new vehicles this year, including six new tractor units delivered to Aberdeen.