Northwards announces £1.5 million investment and unveils new brand
Freight, haulage and maintenance operator Northwards, which has bases in Shetland, Orkney, Aberdeen, Inverness, Scrabster and Central Scotland, has announced that it is investing £1.5 million in new vehicles this year. Following on from an investment in vehicles and containers in March, to allow it to fulfil a new contract with Orkney Island Council, it has just had six new tractor units delivered to Aberdeen. Supplied by MAN Truck and Bus Ltd, the TGX 26.470 6×2 are equipped with all the latest safety and environmental features.
"This is a significant and strategic expansion for Northwards," said managing director, Michael Porter "the latest batch of trucks will be, predominantly, operating out of Aberdeen connecting the Northern Isles ferry terminal with delivery points in Central Scotland. They will replace trucks, which will be redeployed to Lerwick and Cumbernauld to service an increasing volume of daily freight handled through our pallet network into Scotland, and also to support our clients in the renewable energy and aquaculture sector. Investment planned for later in 2021 will be directed towards our services from Central Scotland to Inveness and onwards to Caithness and Orkney."
The new investment coincides with the public launch of a major rebranding exercise for the company. The new brand identity, which has already started to appear across the depots, vehicles, signage and workwear, reflects and supports Northwards' ambitious and constantly developing plans for the future.
Michael Porter, continued: "Like most businesses, Northwards has, since it was first established in 2002, been quietly going about its business, listening to feedback from the market sectors that it supports and gradually moving the business forward. In recent years we have opened new depots in Aberdeen, Inverness and Cumbernauld and entered into strategic partnerships to provide pallet delivery services throughout the UK – and also further afield through the vessels and European terminals of our parent company, Sea Cargo AS.
"As our growth plans are realised, so our branding had to reflect our position as a leader in the freight sector in the North of Scotland. Success brings with it a need to evolve, so this brand development programme has been initiated to highlight to our customers and to our own people the status and the principles of the company as it now stands. We hope that the branding programme also captures the rational and emotional benefits of choosing Northwards – and our commitment to implementing transport solutions that add value and make the connection with suppliers and customers as seamless as possible."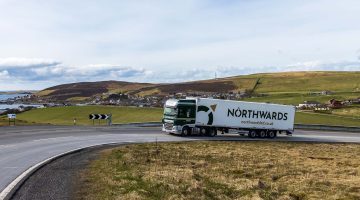 Aquaculture, Transport
Shetland seafood exports halted by drydock delay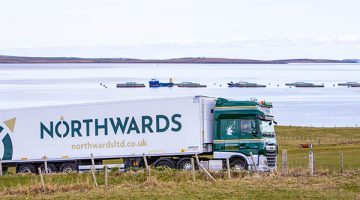 Transport
Northwards is continuing to open up Scotland-to-Scandinavia transportation for the aquaculture sector.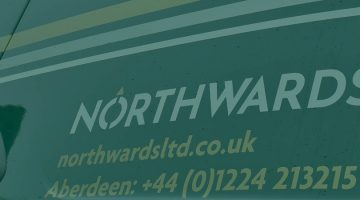 Transport
Due to the unprecedented rise in global oil prices, and huge volatility in the market, Northwards has been forced, for the first time in its history, to introduce a fuel surcharge.