Northwards announces contract win
Northwards, who provide logistics and vehicle maintenance services to businesses in the North of Scotland has announced that it has been awarded a contract from Orkney Islands Council to move approximately 20 containers of general waste to Shetland for processing every week. Starting this month, the work is set to run for a period of up to five years and secures employment for the company's employees based in Kirkwall and Lerwick.
"This is very good news for Northwards," said regional manager for Orkney, Michael Foubister "it is an important win for us that demonstrates not only the quality and efficiency of our service but also the fact that we are compliant with the stringent local authority procurement process. This is a real endorsement of the standards we have set for ourselves and the level of service we can bring to our customers."
Despite the general economic situation in 2020, revenues generated from the logistics and vehicle maintenance services grew by 15% compared to the previous year, reflecting the enduring appeal and value that Northwards brings to the island communities that it serves. Although growth was seen in many of the sectors that it supports, namely aquaculture, energy and retail, the contribution from the waste logistics services was significant. This included supporting the NHS, using walking floor trailers, the long-established skip hire services in Lerwick, and working closely with aquaculture clients to seek out reuse options for fish waste and salmon feed bags.
To underpin this, and other recent contract wins, and also their commitment to the highest standards in safety, quality and the environment, Northwards will be increasing the capacity of its trailer fleet through the introduction of more skeletal trailers and investing £1.5 million in new vehicles and containers in 2021.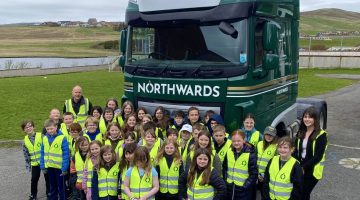 Transport
The pupils of Tingwall Primary School in Shetland received a road safety awareness visit from local transport operator, Northwards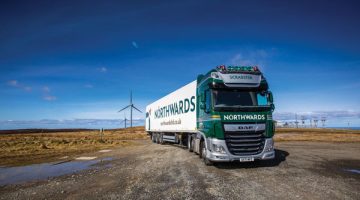 Transport, Renewable Energy
Northwards continues to be an industry leader in initiating innovative transport solutions for the energy sector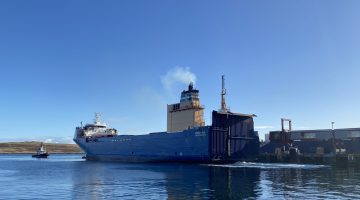 Transport
Success of operation demonstrates potential for future freight sailings