NORTHWARDS CONTINUES TO INNOVATE AND DELIVER FOR ENERGY SECTOR
May 3, 2023
Transport, Renewable Energy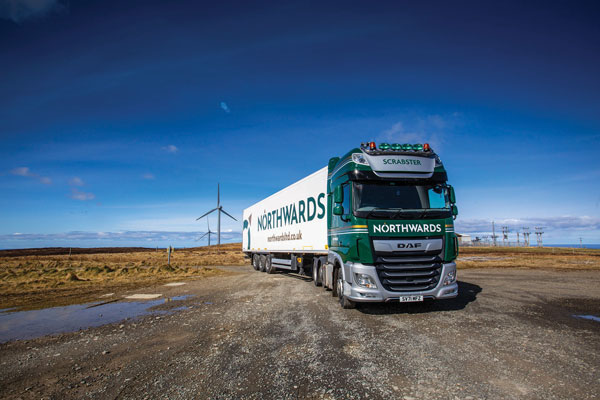 Freight, haulage, and maintenance operator Northwards – which has bases in Shetland, Orkney, Aberdeen, Inverness, Scrabster, and Central Scotland – continues to be an industry leader in initiating innovative transport solutions for the energy sector and will be demonstrating examples of its expertise at All-Energy 2023 exhibition in SEC, Glasgow on 10 and 11 May.
From transporting materials to Shetland for the development of the UK's largest onshore wind farm to transporting hydrogen for one of Europe's most innovative energy businesses, Northwards has developed the strategies and created the resources to answer the complex and diverse transportation challenges faced by the energy sector.
Further, as regulatory requirements for corporate responsibility, environmental, social and governance (ESG) continue to evolve, the company is using its experience to help customers to find the most energy-efficient transport solutions. This includes piloting and exploring partnership opportunities to source electric or hydrogen-powered vehicles for specific routes or projects.
Commercial director of Northwards, Neil Leslie, said: "We use the vital knowledge and expertise gained from having established bases in the northern isles and north of Scotland to project manage and plan practical and effective solutions, which is vital for our energy-related customers. In Shetland, for example, we are supporting the creation of the UK's largest onshore wind farm by moving construction materials to the site and the connecting station. As part of this service, we recently arranged (through our parent company, Sea Cargo AS of Norway) a special sailing of the cargo ship Bore Bay from Denmark to Lerwick to bring in equipment for the wind farm. The whole operation was seamless and demonstrated not only our breadth of service but also what we can achieve for other customers in the sector.
"For the same project, we have transported 20 loads of foundations direct from Denmark to Shetland. We have also carried more than 400 loads of steel reinforcing and more than 1000 loads of cement, as well as providing warehousing and laydown areas."
The company has also been working closely with the European Marine Energy Centre (EMEC) in Orkney for many years and has transported tidal and wave-energy equipment to the islands for deployment and testing.
"EMEC has expanded and diversified into a range of energy initiatives in recent years, and we have been delivering a number of services, including regular transportation between the company's hydrogen production site and its mainly hydrogen assets at Kirkwall pier and Kirkwall airport," said Neil Leslie.
"Similar hydrogen transportation has been carried out to other sites such as Kirkwall hydrogen refuelling station at Hatston, Shapinsay school, Shapinsay electrolyser, and welfare units at Hatston pier, while we have also been providing secure storage and delivering maintenance for EMEC."
Clearly Northwards, with its bases throughout Scotland, is ideally placed to support developments for energy sector clients in this country while also having access to the vessels and European terminals of parent company, SeaCargo AS. As a result, the transportation of goods and equipment between the north of Europe and Scotland has become simple and straightforward.
In addition, a partnership with UPN facilitates pallet distribution services across the UK, Ireland, and mainland Europe.
"This is, without doubt, an exciting time for new energy, and we are delighted to be at the centre of activities not only in the Highlands and Islands but throughout Scotland," Neil Leslie commented.
"Our whole operation is driven by the need to continually innovate, create efficiencies, and solve the transport challenges faced by our customers.  We very much look forward to meeting with the sector at All-Energy 2023 and discussing how we can work in partnership with it to provide expert assistance."
Visit Northwards at Stand ORK57.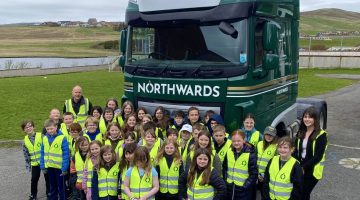 Transport
The pupils of Tingwall Primary School in Shetland received a road safety awareness visit from local transport operator, Northwards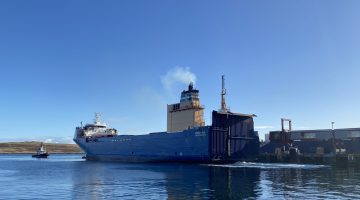 Transport
Success of operation demonstrates potential for future freight sailings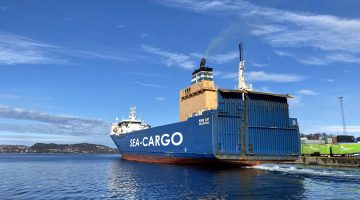 Transport
ESBJERG – ROTTERDAM – LERWICK – BERGEN – ESBJERG - ROTTERDAM