Northwards move to create new jobs in Inverness
November 20, 2020
Transport
The freight and haulage company Northwards is moving to a new depot in Inverness which will more than double its warehouse space, increase its fleet, and create new jobs in the city.
The move, which will take place on Monday 30 November, is a significant development for the company. Regional manager, Michael Foubister, commented: "The new premises at Harbour Road will give us much greater capacity – from the 300 square metres of our old premises at Carsegate Road, we will now enjoy 800 square metres in our new location.
"As well as more than doubling our warehouse space, we are updating the facilities for our staff and increasing our fleet. This will create four more jobs in the Inverness operation.
"The new location provides better access for our drivers to the A9 north and south bound, while also being convenient for deliveries into the depot."
Northwards, which operates a twice daily service from Inverness to Caithness and Orkney, also has depots in Shetland, Orkney, Aberdeen, Scrabster and Glasgow. It is expanding its logistics to create efficiencies and drive new business and has recently introduced multi-functional trailers for refrigerated and ambient deliveries. The expansion in Inverness further contributes to the positive growth of the company.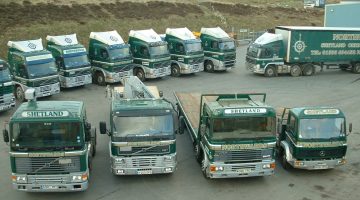 Transport
This month, January 2022, sees the 20th anniversary of Northwards' establishment. Incredibly, it is 20 years since director Neil Leslie led the management buy-out of the freight division of P&O and created the business which has since that time been providing employment and delivering a transport and logistics service of the highest quality to our ever-growing number of customers.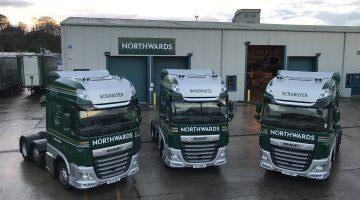 Transport
Northwards takes delivery of three of six new vehicles, part of a half million pound investment for the company.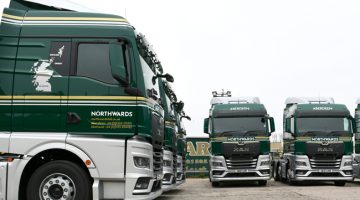 Transport
Northwards has announced that it is investing £1.5 million in new vehicles this year, including six new tractor units delivered to Aberdeen.